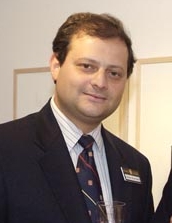 Background:
Vlad Shvartsman has almost twenty years of experience in registering Trademarks in the US and Canada. Mr. Shvartsman's passionate approach to getting the most protection for his clients has reaped many rewards, and he has a very high rate of success in registering even the most challenging marks. He has accomplished what others have deemed 'impossible'.
Mr. Shvartsman has been involved in intellectual property since 1989. He has registered sound marks, graphic device marks, and even prestigious three-dimensional marks in the US and Canada. He was trained in Trademark database searching by Questel-Orbit, which is the database architecture model of most of today's online Trademark databases.
Education:
• Université de Montréal – 1996 B.Mus.
• Université Laval – 1999 LL.B.
• University of Miami – 2000 LL.M. Taxation & Certificate in International Taxation
Legal Experience:
• Shvartsman Patent Firm – 1989 to 2002 (preparation of patent and Trademark documents)
• Vlad Shvartsman, Attorney at Law – 2002 to Present (practice of Trademark and patent law)
Bar Membership:
• New York Bar – 2001 to Present
Hobbies:
When Mr. Shvartsman is not pioneering Trademark law, he spends time volunteering and playing the cello.